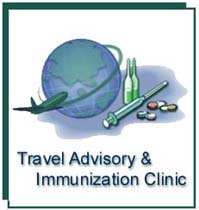 About the Travel Advisory & Immunization Clinic
Our medical director, Dr. Michael Sauri, is specifically trained and certified in tropical medicine and infectious disease. He is a Clinical Consultant for the American Society of Tropical Medicine and Hygiene and has successfully completed the Certificate of Knowledge in Clinical Tropical Medicine and Travelers Health Our lead advisor, Mary Nichols, and clinical nurses are highly trained and experienced in the area of travel immunizations and the needs of travelers. Our travel nurses are current with the latest changes in travel requirements to better assess your individual needs and provide a comprehensive plan, specific to your destination and activities.
We rely on up to date resources including traveler's advisories from the Center for Disease Control, PROMED and Travel Medicine Advisor. Our clinic is a state-certified immunization facility offering a complete set of vaccines for the traveler.
Click here to learn more about the services we provide.
Dr. Michael A. Sauri, Md, mph & tm, facp, facpm
Dr. Michael Sauri has been a Tropical Medicine consultant to several large international corporations and to many travelers via the Travel Advisory and Immunization Clinic in the Washington metropolitan area since 1987. He is also Founder and Medical Director of Occupational Health Consultants and serves as a consultant in occupational medicine, infectious diseases and medical toxicology for large number of biotechnology companies in the Washington metropolitan area since 1987.
He received his Medical Degree from Loyola University, Stritch School of Medicine (Chicago) and Masters in Public Health/Tropical Medicine and Hygiene from Tulane University. During his twelve years in the Military, Dr. Sauri received Residency training in General Preventive Medicine in the US Air Force (USAF School of Aerospace Medicine) and General Internal Medicine in the US Army (Brooke Army Medical Center) and Infectious Diseases Fellowship training in the US Navy (Bethesda Navy Hospital). In addition, he received his third Board certification in Occupational Medicine in 1994, was certified in Tropical Medicine in 1997 and became board eligible for Medical Toxicology since 2000.

Dr. Sauri is the recipient of numerous awards and decorations from the Department of Defense, State Department, as well as State and Local governments, including the Humanitarian Service Medal. Dr. Sauri separated from the military at the rank of Lieutenant Colonel and had the distinction of being the first physician to have been awarded the Defense Superior Service Medal (the highest peace-time military service medal). He has authored numerous articles in the area of Chemical/Biological Warfare, Medical Care of Refugee/Displaced Populations, Tropical Diseases, and AIDS.

Dr. Sauri was selected ten times by his Peers in the biannual Physician Poll as one of the top Infectious Diseases Specialists in the Washington Metropolitan Area (Washingtonian Magazine (Nov 1991, Nov 1993, Nov 1995, April 1999, October 2002, Jul 2005, Apr 2008 and Mar 2010) and as one of the top Internal Medicine Specialists (Nov 2002, Jul 2005) and in Oct 2011 by Super Doctors Poll.
Download a copy of Dr. Sauri's resume to learn more about Dr. Sauri's professional background, including awards, professional societies, and published articles. (English resume
| Spanish resume
)
Mary Nichols, CRNP
Mary Nichols is the lead advisor of the Travel Advisory and Immunization Clinic. Her professional experience includes 27 years experience as an RN in acute and outpatient settings, as well as, management and teaching positions . She received her BSN from The Catholic University of America in 1979 and her MSN in 2000, from the University of Maryland. She is a board certified Adult Nurse Practitioner . She has special interest in travel medicine, the evaluation and prevention of occupational injuries, and vaccine preventable diseases. Mary Nichols is a member of the International Society of Travel Medicine. She also holds current certification in CPR and Advanced Cardiac Life Support.